India's New Labour Code – How does this impact your business?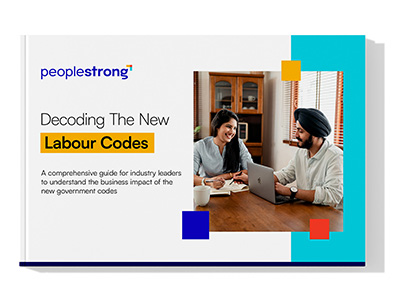 India recently announced a new labour code to refine 29 existing labour laws. These changes affect companies across industries and sectors immensely.  
For organizations, it is vital to understand the implications of how this labour code might affect their payroll system standards and compliance.  
Once implemented, the new labour code will simplify and ensure that labour regulations are executed universally across India. 
Most notably, the reforms tackle areas such as wages, social security (pension, gratuity), labour welfare, health, safety and working conditions where there has not been much progress in regulation lately despite rapid strides in progress amongst the service sectors. With our handy guide, you will be able to understand each of the regulations and what it entails for your organization.
Key Takeaways From The E

-Book
What has changed – A side-by-side comparison from the old to new 

labour 

code

Key proposals that were added to the new wage code

 and potential business impact

Impact on compensation and benefits for organizations

 

Impact on other financial components 

of

 the new wage code

 
Want to read more, fill the form and download the e-book
Thoughts, insights, and more…