A Conversation With Leena Sahijwani (Group VP-HR, TATA Sons)
While we witness the era of #NewCodeOfWork, there exist a set of leader and organizations with premonitions, who were prepared and poised to transform their workplace. The pandemic just acted like a catalyst, providing the final push.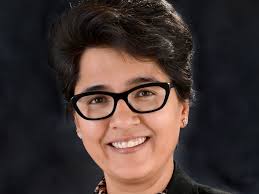 We asked Leena Sahijwani (Group VP-HR) from TATA Sons on how their resilient team went ahead and reinforced their commitment towards a complete digital transformation under the OTON (One Tata Operating Networking) project during such tumultuous times. Here's how our conversation made its way.
Q. The year 2020 has been like a roller coaster ride. Despite the ups and downs – The Tata Group reinforced its commitment towards transformation by consolidating its service providers for multiple services & products across the group. Can you explain how this decision came about and why other businesses should quickly move towards relevant solutions?
A: Several projects were initiated/culminated in the year 2020 but for TATA Group, the inception of the transformational journey was set afoot much earlier, around the year 2017-2018. To spearhead the project within the TATA Group, a specialized team called "The Synergy Team" was set up. They identified technology as a key focus area. Under One Tata Operating Networking (OTON) we aimed to leverage our scale and simplify processes across the group while leveraging best in class technology solutions.
Q. As we enter 2021, are there previously successful changes you observed are being carried further and maybe being enhanced?
A: While we execute the core solutions crafted under OTON, we anticipate adjacent areas to emerge during implementation discussions that were not in the initial scope. These adjacent areas might have been identified by one company or more and have applicability across similar industry group companies. Therefore, we see the scope getting enhanced over time, making the OTON solution more comprehensive and robust. In addition, newer technologies are emerging at a fast pace and often provide a competitive advantage, if implemented as a bolt-on solution. These are the additions we are constantly looking to make in our core solution.
Q. The COVID-19 experience has made it clearer than ever that CHROs must play an extremely pivotal role in C-Suite. How is the role of a CHRO changing across organizations today?
A: The role of CHRO as a pivotal one in the organization has been a topic of discussion for a long time. Organizations dealing with the COVID-19 scenario had everything to do with people in the organization, sharpening the role a CHRO can play in such a scenario. Many innovations/newer thought processes have emerged during the last year in response to the pandemic. I see this as an opportunity for us to challenge our past practices, policies, and processes; realign and renew them with stronger sense of purpose, removing frills/waste that we may have inadvertently added over time. 2020 has enhanced our ability to manage and adapt to change. With higher change orientation within the organization, it's time to re-look at the culture and identify areas that are coming in the way of business success and fix them.
Q. As the pandemic begins to ease, companies are considering a remote and on-site working model, a hybrid-virtual model in which some employees are on-premises, while others work from home. What are the key things HR departments can prepare for, to manage an evolving workforce?
A: Adopting a hybrid model at a large scale would mean re-looking at all HR processes, in addition to enhancing technology capability and data security. However, the success of such an endeavour will depend on how leaders handle hybrid teams. This must be a conscious and deliberate effort. We may be encouraged by the fact that most organizations adopted well during the lockdown- however, everyone were working from home, leading to higher empathy. In addition to leaders, team members need to be sensitized on how to deal with a new scenario. To me, process and policy changes may be easier to deal with, it is the spirit with which these are adopted that will determine success. Preparing the organization adequately for this new order will be imperative.