Those of you who are addicted to Netflix, have already been exposed to 'predictive analysis' without having realised it. It is the technique that is used by Netflix to suggest what you should watch, based on what you have been watching over a period of time. Simply put, predictive analytics makes predictions based on past user behaviour data.
The technique is used by Facebook, Amazon, Flipkart, YouTube and others too. A report titled 'The Next Era of Human Machine Partnerships' published by Dell and Institute for the Future predicts that the demand and use of 'predictive analytics' is set for exponential growth.
Predictive analytics uses data, statistical algorithms and machine learning methods to state the likelihood of future outcomes on the basis of past data. It not only goes beyond what has occurred in the past, but also assesses what will happen in the future.
In the recruitment sphere, it is similar to the behavioural interviewing technique wherein past behaviour data is used to infer the behaviour of candidates in the future. The only difference is that in case of a behavioural interview, the data is collected, studied and interpreted by human beings, whereas predictive analytics relies on machines and algorithms to do the same work.
Predictive analysis can save almost 23 hours of manual work in a week if used in the hiring process. It can help detect fraud, optimise marketing campaigns, enhance operations and mitigate risks. PeopleStrong looks forward to using predictive analytics in recruitment decision making, considering its aim is to help businesses and HR leaders use the power of data without having to worry about what statistical models to use for accurate and reliable predictability. PeopleStrong's easy-to-use tool for the purpose has all the answers.
How does it work?
The tool uses 10 different statistical models in the background, analyses the data set for its seasonality, variability and identifies and ignores the noise in your data using line smoothening technique to give you a predicted number pattern for the next 9-12 months. This model auto predicts the pattern based on the experience of working with businesses, and is created under the watchful guidance of PeopleStrong's in-house statistical experts. The model is built to self- learn and hence, the more data you feed it auto corrects itself improving its predictive abilities with more use and data.
The Company is currently working with organisations across sectors, such as auto, IT and ITES , that are using this tool and model to predict volume-hiring projections based on past data patterns.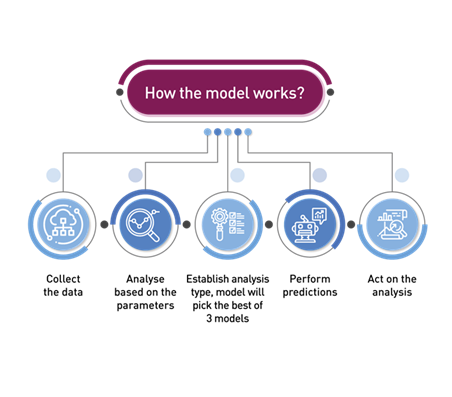 Predictive and prescriptive analytics enables recruitment teams to be more proactive in their approach and increases their ability to improve business results many times over. The predictive analytics tool can be effectively applied to any part of the process to gain insights and drive effective actions.
PeopleStrong is a leading HR Technology Solutions Provider with a suit of applications like Alt Recruit, Alt Worklife, Alt Learning, Alt Payroll and Alt Messenger which are built to help organisations like yours benefit from latest HR and Technology processes. To Know More how we can help your organisation, please Contact us.
This article was originally published on HRKatha as part of Brand Reachout initiative. Click here to read other articles in this series
Payroll and HR are at the core of every organization. With new-age workforce distributed across geographies, organizations are grappling with multiple payroll processes, numerous pay-components, and inconsistent tax and compliance handling. Alt Payroll provides intelligent payroll management solution for building smarter workplaces.
Get in touch with our payroll and compliance executive to know more about Alt Payroll and how we can manage your payroll better.
PeopleStrong's Recruitment Technology (Alt Recruit) is a smart, scalable and one-stop recruitment solution for hiring the top talent. It is not merely an Applicant Tracking System (ATS), rather is AI-enabled, Unified, Intuitive and Intelligent recruitment platform which powers end-to-end hiring processes of 100+ organization across the globe. It is integrated with 50+ candidate sourcing channels, processes over 1 million candidates per year and rolls out 60,000+ joining offers per year.
Get in touch with our recruitment solutions executive to know more about Alt Recruit and how we can manage your Recruitments better.