Termed as a 'Pande-cession', with COVID-19, the world is facing a double whammy! The Virus is still lurking around, and in addition to it, India & large parts of the world are also facing a severe economic down- turn.
The economic impact of the past 4 lockdowns has been disruptive for India. These effects are not only visible in the growth rate of the economy, but also compensation & salary data of millions of employees in India.
We analyzed payroll data of over 5,00,000 (half a million) employees spread across 100 organizations of India and 15+ industry sectors who use PeopleStrong Alt Payroll. The information has been analyzed anonymously and did not consider the names of the organizations or the individuals to avoid any bias. We bring out some interesting analysis and findings of how the COVID-19 pandemic has hit the industries in terms of salaries, layoffs, reimbursements, and more.
Chart 1: The majority of the industries are deeply affected & saw salary reductions with Retail being the most & media being the least affected.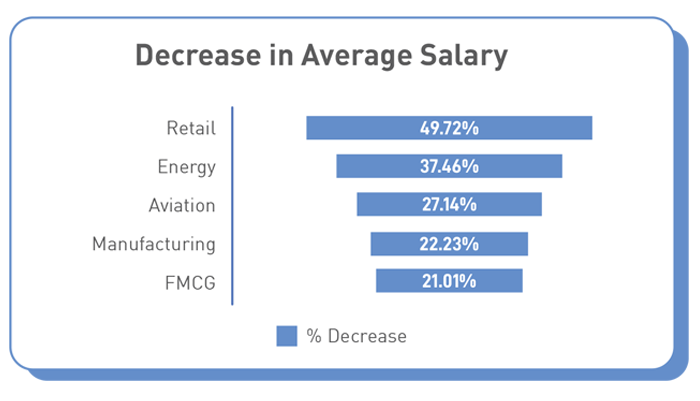 It was observed that average salaries were affected across sectors. While some industries saw huge reductions, others managed to come out of the lockdown with slight reductions.
Chart 2: Numerous industries also saw layoffs and lowered headcounts with QSR (Quick Service Restaurants) being the most affected.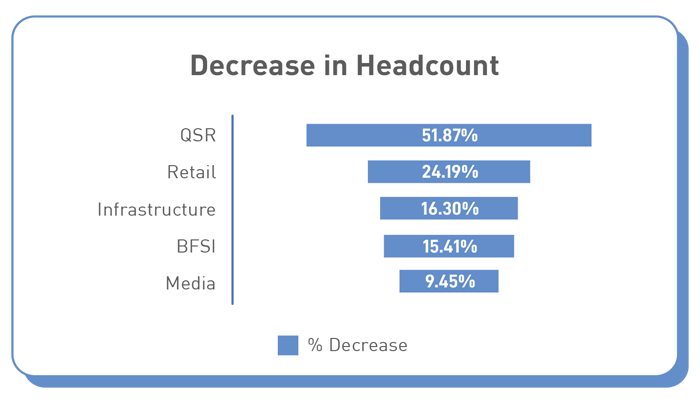 Unsurprisingly,  QSR industry saw the most layoffs during this time, as restaurants remained closed. It is followed by Retail & Infrastructure sectors which saw minimum or no-activity during the lockdown.
Chart 3: Entry-level employees are the most vulnerable in Conglomerates

Layoffs are a reality at all levels however, entry-level employees are the most vulnerable. Organizations have decreased the headcount by reducing the entry-level and contract workforce to maintain business continuity.
The Average Salary in conglomerates increased by 3.76% while the headcount decreased by 1.09             . An increase in average salary is due to reduced headcount mostly at the entry-level or increments at some levels.
Chart 4: It's not all bad news! IT/ITeS, F&B & Pharma saw a rise in the average salary.
Industries that seem to be ready to surf the tide of the crisis with minimal impact on average salaries or manpower include food & beverages and healthcare & pharmaceuticals. No surprises here as these industries continued to function during the lockdown.

Chart 5: Higher contribution of the Variable Pay Structure across industries
The table below indicates the current variable component across India in various roles and how it might change in the coming months in large as well as mid-sized organizations. Also, the variable component is now being linked with key outcomes (business growth & survival) instead of being dependent on subjective criteria. Tangible objectivity of achieved business results will govern variable pay-outs in the future.

Chart 6: Medical reimbursements witnessed increase by 59.5%
We now take a closer look at how employees have responded to the new normal of work and workplaces. With work from home being the norm, employees' requirements have modified or completely changed across industries.
•       The total claim count has been reduced by 52.4%
•       Overall average claim amount has reduced by 58.6%
Reimbursement categories to witness the highest decrease.

However, medical reimbursements saw a rise by nearly 60% during this time.
Payroll & compensation are at the core of any organization. As the country went into lockdown 5 months ago, the unthinkable had to be done, numerous payroll processes had to be moved online. Teams across departments went working from the office to working from home in no time, but for payroll, this was a unique challenge. With security & operational difficulties, moving payroll online for a lot of organizations was a tough nut to crack. It led to delays, inaccurate payroll, inefficiencies in data collection & more. But in all this chaos, we saw some trends emerging- the superiority of cloud payroll solutions over in-house systems and the need for transparency in our systems.
Remote working has pushed all of us to re-look at our ways of doing business and reinvent our processes & models. Payroll is no exception. As the government supports the working class with new tax regimes & compliances, we must give back more power to the last mile employee through timely & accurate payroll.
PeopleStrong Alt Payroll provides an intelligent payroll management system for building smarter workplaces. Get in touch with our payroll and compliance executive to know more and how we can manage your payroll better.