PeopleStrong Recognized as a Customers' Choice in 2023 Gartner® Peer Insights™ 'Voice of the Customer': Cloud HCM Suites for 1,000+ Employee Enterprises
April 24, 2023
By Ganesh Ram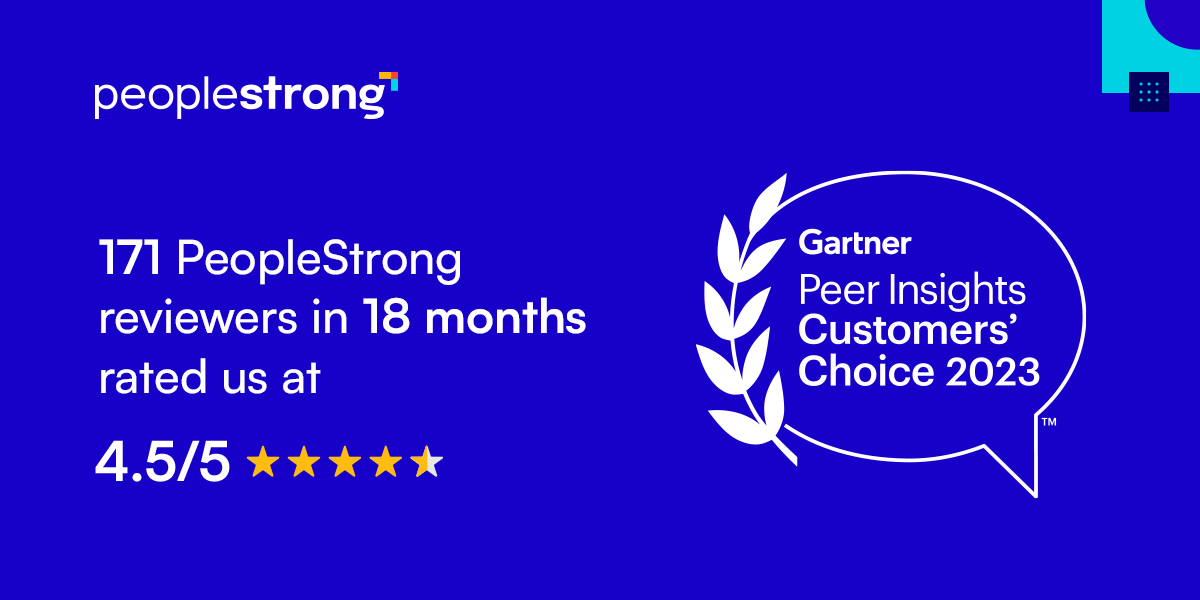 We are elated to announce that PeopleStrong has been recognized as a Customers' Choice in 2023 Gartner Peer Insights 'Voice of the Customer': HCM Suites for 1,000+ Employee Enterprises for the second time in a row.
PeopleStrong has also been included as a Midsize Enterprise Customers' Choice and a Services Customers' Choice in this Gartner Peer Insights 'Voice of the Customer': Cloud HCM Suites for 1,000+ Employee Enterprises report.
Our team takes immense pride and joy in being recognized in the upper-right quadrant of this "Voice of the Customer" quadrant as feedback from our users continues to shape our platform.
What is Gartner Peer Insights, and why does the recognition matter?
The "Voice of the Customer" is a document that applies a methodology to aggregate Gartner Peer Insights' reviews in a market to provide an overall perspective for IT decision makers.
The 2023 report by Gartner defines the cloud HCM suites "as application suites that deliver functionality to help organizations attract, develop, engage, retain, and manage workers". As per this report, the core capabilities of cloud HCM suites for enterprises with more than 1,000 employees include: Administrative HR, Talent management and Integrated HR service management (IHRSM).
How we fared across categories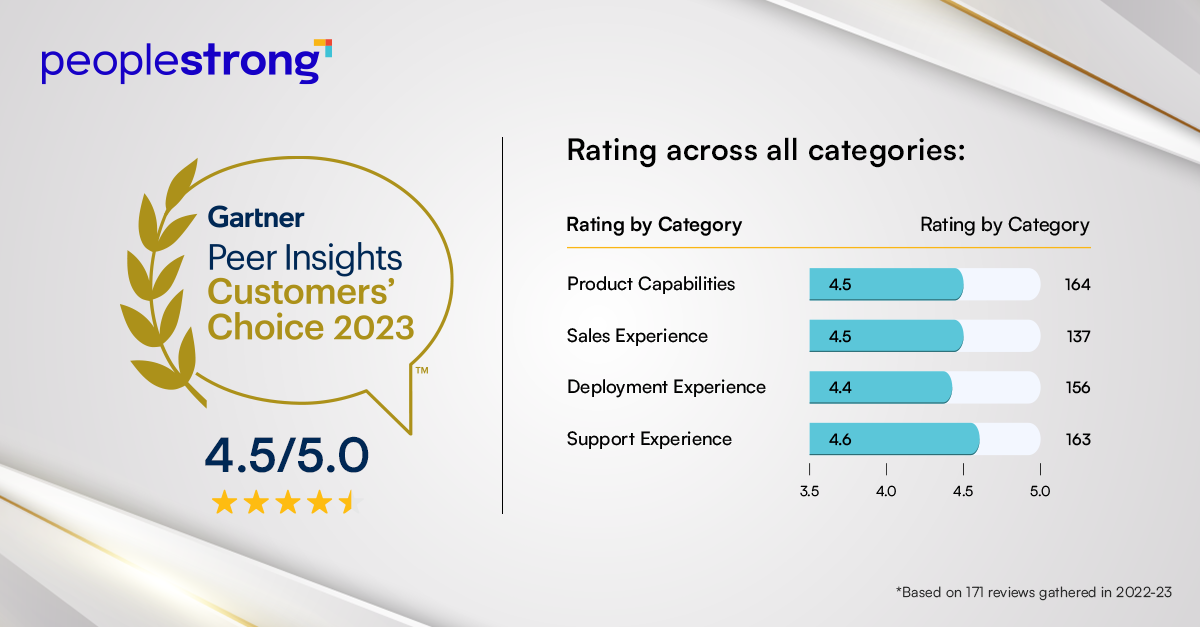 171 PeopleStrong reviewers in 18 months rated us at 4.5/5 across 4 categories – "Product Capabilities", "Sales Experience", "Deployment Experience", and "Support Experience". *
Not only did PeopleStrong score 4.5/5 in product capabilities, but it was also recognized as a Services Customers' Choice in the Industry segment ", which to us is a testament to the importance we place on customer service.
A preview of what our customers had to say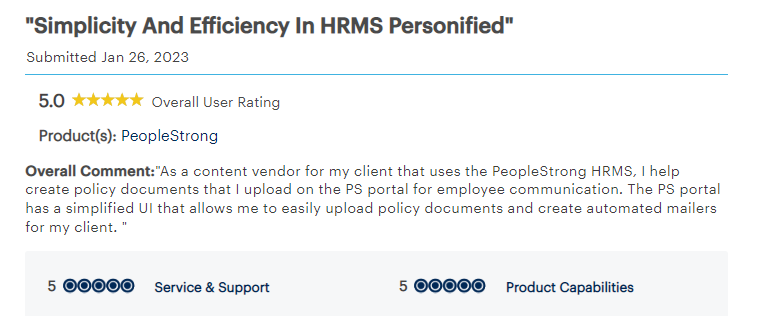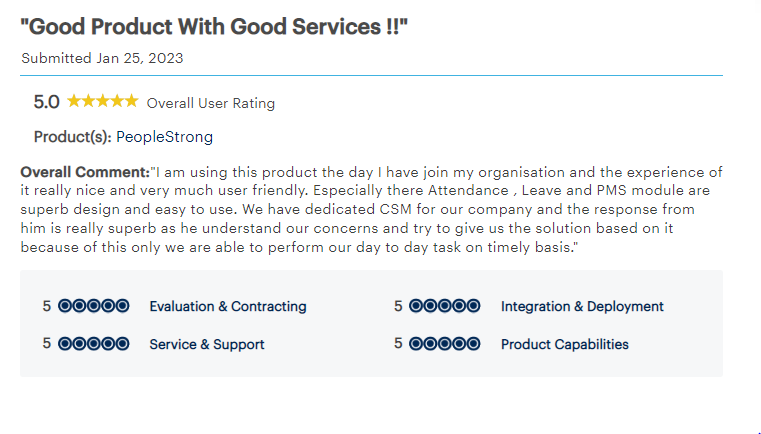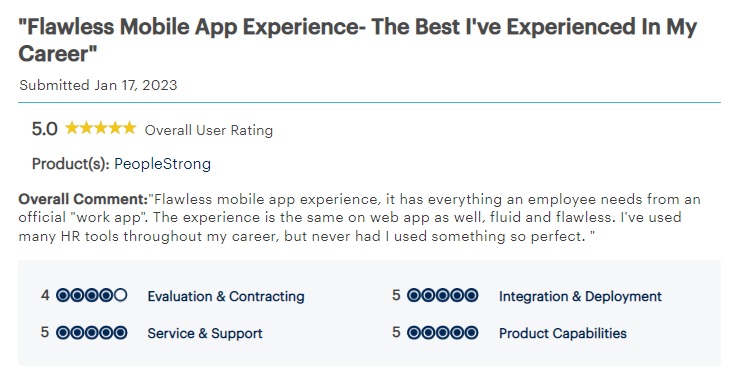 What does this mean for PeopleStrong going forward?
Today, with our comprehensive SaaS platform, we
Have processed more than 3 billion dollars in salary so far
Have processed more than 1.6 million applicants so far
Have completed 2 million learning courses
Have completed 4 million Jinie interactions in a year
Serve over 500+ top enterprises across Asia Pacific
Power seamless employee experience for over 4M devices
Deliver 15 million messages every month
Process 1.1 million punch-ins every day
And we are just getting started.
We believe this recognition will go a long way in boosting our motivation and bringing out the best possible features for HR professionals.
To us, this distinction is a testament to our long-term vision for building sustainable customer centric products at PeopleStrong. And as always, we look forward to more of the constructive feedback that helped us get here.
If you are an organization that benefited from PeopleStrong, we urge you to join the Gartner Peer Insights crowd and weigh in.
To access the 2023 Gartner Peer Insights 'Voice of the Customer': Cloud HCM Suites for 1,000+ Employee Enterprises report, please visit here.
Disclaimer:
*As of January 2023. GARTNER is a registered trademark and service mark, and GARTNER PEER INSIGHTS CUSTOMERS' CHOICE badge and PEER INSIGHTS are trademarks of Gartner, Inc. and/or its affiliates in the U.S. and internationally and are used herein with permission. All rights reserved.
Gartner Peer Insights content consists of the opinions of individual end users based on their own experiences with the vendors listed on the platform, should not be construed as statements of fact, nor do they represent the views of Gartner or its affiliates. Gartner does not endorse any vendor, product or service depicted in this content nor makes any warranties, expressed or implied, with respect to this content, about its accuracy or completeness, including any warranties of merchantability or fitness for a particular purpose.