CIO CHRO Agenda: Fueling the Digital Workforce Experience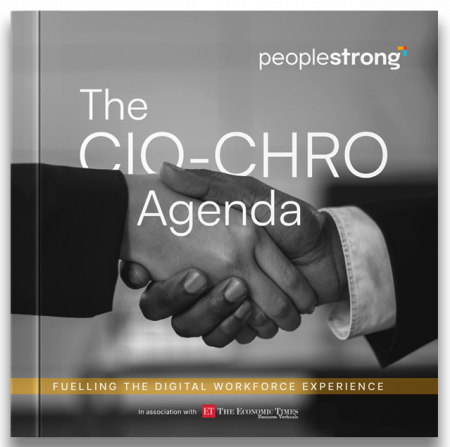 The two pillars of the new world order post-pandemic were common to all the challenges: technology and people. As a result, CIOs and CHROs have emerged as the change agents, decision-makers, and enablers for organisations across sectors.
Digital transformation essentially is about people, which means the technology experience is indeed the new employee experience. The pandemic has afforded both these leaders an incredibly rare opportunity to reimagine the workplace and drive a new people-first digital culture in ways that can augment the future readiness of an organisation.
PeopleStrong, in partnership with Economic Times, interviewed top CIOs and CHROs across geographies, to understand this powerful dynamic. We now bring you those insights in this book.
Through the perspectives presented in this coffee table book you can explore:
How businesses have utilised the CIO-CHRO partnership and continue to do so
How the CIO & CHRO can align people and technology strategy to drive continuous innovation and business transformation
Who is ultimately responsible for the digital transformation of the employee experience, the CIO or the CHRO
Want to read more, fill the form and download the e-book
Thoughts, insights, and more…