PeopleStrong Webinar: Managing Employee Goals, Productivity with Ankur Sehgal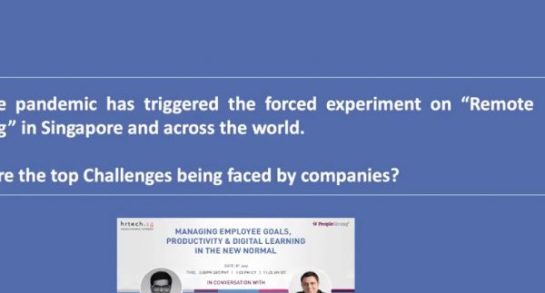 As the pandemic transforms the world of work and how we approach it forever, it is an opportunity for HR professionals to take the lead to rewrite the rules of HR and play a bigger role in driving growth. What needs to change?
As we move into 2022, HR Tech 4.0 will play centre stage in powering the talent economy and drive growth. The key task before people leaders is to define a strategy that will deliver hyper-personalised employee experience and enable their talent to deliver outcomes.
Speakers:
The virtual panel discussion on 'Reimagining HR for a Hybrid Workforce' was moderated by Su-Yen Wong, Board Member of PeopleStrong, with panellists including Wong Hefen, Director, Development and Org Transformation of GovTech, Lynn Kok – Founder and CEO of Mula X, and Dr Surapit, Director at Thammasat Institute for Continuing Education & HR.
Thoughts, insights, and more…