What is the SaaS Model?
The premise of the software-as-a-service or SaaS model is that a piece of software is hosted on a cloud infrastructure (i.e., operated through a web browser), and businesses pay a monthly fee to get access to this software. It often takes a good amount of coding knowledge, combined with a good amount of user interface design skills, to make a SaaS product worthwhile.
SaaS businesses in general are probably the most complex business models in our explainer series.
The main difference between SaaS businesses and software companies is that SaaS is hosted in the cloud. This gets rid of the need for an end-user license to activate the software and any infrastructure to host the software. Instead, the SaaS company hosts its membership. The customer just has to log in to their account and they get full access. Cloud HRMS software are also finding a lot of acceptance by larger enterprises due to the benefits they bring on the table.
SaaS in Demand
As you can imagine, this is incredibly attractive as a service. Business owners that do not want to invest huge sums of capital in creating an IT infrastructure often use a SaaS solution, and that SaaS solution often becomes incredibly integral to their businesses – such as organizations using O365 for email exchange or HR Departments using PeopleStrong. The SaaS business eliminates this risk for the client that is using the service for their business, who usually only pays a small monthly membership fee.
Though there are many ways for a SaaS business to earn money, typically the bread and butter of a SaaS business are going to be its recurring membership revenue. This membership fee is what gives the customer access to the products and the features of the software. The huge reinvestment is often needed to grow a SaaS business that can eat through all the profits, causing many people to buy SaaS businesses based on their confidence in continued, stable growth.
Related Article: Everything You Must Know About GDPR Alignment
The 3 Periods of a SaaS Business
For every SaaS business, there are three main phases that they are going to experience. Most people understand the Startup phase, and then everyone dreams about the Stable Golden Goose phase when the money is just rolling in. One of the phases that are often not talked about, though it is one of the major stress periods for a SaaS business when they either make it or break it, is known as Hypergrowth.
Startup – this includes getting everything going, programming a working product, and "going to market" with it to acquire your first few customers.
Hypergrowth – if the market likes your product, you likely experience an immense amount of growth very quickly as businesses adapt your software. While this sounds great, this usually is going to cost you more money, because you need to rapidly expand in data, store, bandwidth, and all sorts of technicalities to support the newly acquired customers. Remember how customers of SaaS products often love the product because they don't need to create an IT infrastructure for their business? Well, the reason why they don't need to create one is that your SaaS product is providing that backend for them through their membership.
Stable Golden Goose – this is the stage when your SaaS business has leveled out. You are starting to turn a pretty healthy profit, and acquiring new customers at a rapid rate is not going to test your infrastructure limits as it does in the hypergrowth phase. You will also become familiar with "churn", which we are about to get into.
Many SaaS products are quite good, but the inability to manage hypergrowth is something that many businesses suffer from, which can cause many to fail as well. So Hypergrowth is a journey which every SaaS company have to clear to be among the pioneers of True SaaS
Future of SaaS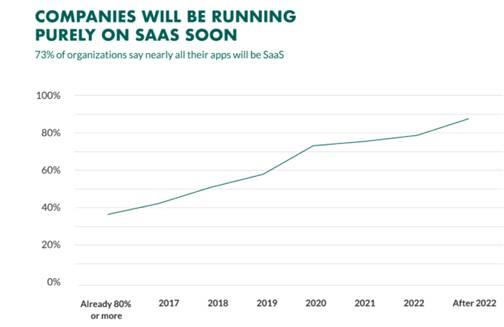 PeopleStrong as True SaaS
What, I hear you ask, is "True SaaS".  The main difference, over and above what I described above for SaaS, is scalable, configurable, and multi-tenancy efficient. This is where the data and applications of many customers are managed by PeopleStrong on shared infrastructure and data structures.  The central character of "True SaaS" claim this is the best way to provide efficient and frequent updates, the sharing of best practice between customers, and better all-round economics, compliances and security as compared to primitive models of SaaS.
Multi-tenancy allows for incredible cost savings for the vendor that are translated into cost savings for the customer. Upgrades can be instituted across all customers, far more quickly and cheaply than with any on-premise or pseudo-SaaS solution. 3rd party add-ons and integrations can be made available to everyone as well.
In the current context, SaaS brings an additional advantage: allowing organizations to work remotely! When countries around the world went into lockdown in the first half of 2020, organizations that were on legacy systems faced a new challenge –
How to manage their people processes remotely?
This is not to say that any true SaaS solution is a good one, or that any solution that isn't truly SaaS is a bad one – all businesses have different needs and any solution, SaaS or not, can be a poorly constructed one. This is, however, quite clearly the future of enterprise software, and you have to ask yourself whether you will take advantage of these benefits or let your competition take advantage, leaving you with a costly, unsupported, inefficient enterprise software system that will, in the not too distant future, be considered a relic of times past.