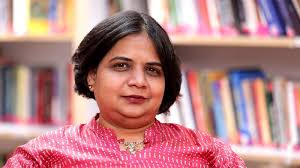 Preeti Gupta
Group Executive President
Group HR
Aditya Birla Group
A conversation on HR Tech its future and the impact it can have on businesses!
An alumnus of XLRI and Harvard Business School (Advanced Management Program), Preeti Gupta is the Group Executive President, Group HR at Aditya Birla Group.
In her 20+ years at Aditya Birla, Preeti has led many transformational HR projects from Organisation Effectiveness, Performance Management, ABMCPL HR, and more. She currently provides leadership to HR systems such as Performance, Rewards, Organization Design & Development, Organizational Culture & Diversity, Diversity & Inclusion, Employee Wellness & Engagement, Digital HR, and HR Governance
In the inaugural edition of our quarterly newsletter, "People care is good for business," we spoke with Preeti, and here is her very unique perspective on how HR Tech needs to evolve for creating business impact.

Q. In the most unprecedented times of our lives, Aditya Birla Group was one of the very few conglomerates that took up HR Tech exercise. As your partners, we had the front row access to this story, but could you please share that in a world where everyone was withholding major projects in COVID times, what made you continue?
At Aditya Birla Group, we are deliberate in our choices and see them to their logical conclusion. Our values – "Integrity" and "Commitment" – ensure that we stay by our commitment to our partners and the projects that are already rolling. We decided to invest in HR Tech in Nov. The project team was put together in Dec 19/Jan 20 and they continued working through the lockdown as BAU (Business as usual), overcoming the budget constraints and mid course changes on account of COVID,
Q. What role do you think HR Technology will play in the new way of work, where remote working will be an inevitable reality?
I think the convergence of all individual technologies as a single unified workplace technology, will play a significant role in the new world of work, as we begin to work remotely. This was not the case earlier. In large organizations like ours, we have been investing in both HR technology and other functional technologies for a long time. Yet the employee experience, the customer interface, the partner platforms have been fragmented and built for "one-way" connect (informative rather than interactive), quite distant from being intuitive and delightful.
Social distancing and remote work have challenged these assumptions that we have lived with. Be it our daily essential and luxury needs, medical needs, or financial needs -everything can be met "on-demand" or virtually. The latest season of IPL, with its digital cheerleaders and AI-generated audience voices, established that even entertainment could be delivered with the same intensity virtually.
The story at work is going to be similar. MS Teams, Office 365, zoom, whiteboards, and other collaborative tools have enabled everyone to carry on with their work from home or anywhere, as usual, or even more efficiently than before. Digital learning, facilitation, & reach are now the new normal; each team is less than a minute away. Nimble and agile are the new asks from teams. Infact, at Aditya Birla Group, we are currently running a HR Strategy FY 22-24 visioning exercise with a 100+ strong global team, collaborating digitally.
As the workplace technology platforms make the workplace touchless (common areas like the lift, cafeteria, and standard processes like bills pay), employee interface technologies will be called on to play their role. The way we relax, contribute, and collaborate will also change for good. Remote work is likely to be the norm, along with specialist gig workforce in enterprises where the change is valued as an opportunity. Many features of existing technologies that were low on the uptake will now experience the surge.
The focus in the new world of work will be on "User Experience," "Innovation," and "Safe Environment," and this will be seen across industries, from manufacturing, to retail, to services.
Q: What is the best way to position HR Tech as an investment to business in these times when cashflow conservation is on top of CEO and CFO's mind?
The role that technology played in ensuring business continuity and people experience during the lockdown would be visible to all CEOs. So, I am sure that most organizations will invest in technology as their first CAPEX proposal when they plan for their future. I would not position HR tech as a standalone investment, anymore. It needs to be part of a bundled smart workplace with a dedicated focus on analytics, to understand workplace behavior.
The benefits of such a unified "workplace" technology are quantifiable in terms of "Time returned to employees" and "decision efficiency." In our view, an integrated Workplace Tech Platform can easily return anywhere between 30 to 60 minutes to the employee, which can have a massive impact on employee's productivity
Q. Workforce productivity and performance is at the forefront. How is this being enabled through Technology?
In the lockdown, we all experienced workforce productivity, at levels higher than anticipated. Technology had a big role to play. We are exploring the synergy and integration of HR systems with other enterprise wide systems in the company like Smart WorkPlace Technology, ERP systems etc. and looking to add in analytics and artificial intelligence to connect people and business.
Q. Workforce productivity and performance is at the forefront. How is this being enabled through Technology?
In the lockdown phase, we all experienced workforce productivity at levels higher than anticipated. Technology had a significant role to play and this trend is going to continue as we go ahead. At Aditya Birla Group, we are exploring the synergy and integration of our HR systems with other enterprise-wide systems and looking to add in Analytics and Artificial Intelligence to connect people and businesses.
Q. Our theme of the current edition of this newsletter is "Collaboration is the New Currency". What would be your take on that? How are you as Asia's leading conglomerate empowering teams to collaborate better.
"Collaboration" was always the currency. It is just recently that it has gone "Digital" in a big way 😊. Among other things that we are doing in these uncertain times at Aditya Birla Group, we are definitively focusing on building a Digital Workplace that retains the classical human collaboration values but in a convenient digital way.