Thailand's oldest HR body bets on PeopleStrong's industry-leading ALT Learning offering to empower members with seamless learning experiences and support learning behaviors and cover assessments for the members.
PeopleStrong, a leading provider of human resource management technology, today announced a strategic partnership with the Personal Management Association of Thailand  (PMAT), Thailand's largest  human resource management professional association that has been around for more than five decades.
Under the partnership, PMAT will leverage PeopleStrong's ALT Learning platform engaged learning and onboarding experience for members of the association. The ALT Learning platform will allow PMAT members—consisting of 2600 organisations and over 650 individual members— to access exclusive online learning content through the portal which deliver a seamless access and usage.
"PeopleStrong is focused on enabling and empowering organisations to adopt digital technologies and strategies in Thailand in the area of Digital HRby leveraging our ALT Learning offering. We hope to help PMAT members from various organizations in Thailand able to overcome obstacles and have a better learning experience. This will help drive learning and enhance the Thai HR society to have the knowledge of management and human resource development ready for work now and in the future.," said Boonchoo Malhotra, Regional Director, PeopleStrong.
PeopleStrong's ALT Learning platform will enable a seamless onboarding experience for PMAT members, which in turn will inspire them to seek opportunities for their own professional development. The platform also encourages continuous learning, giving members ample opportunities to consume relevant materials across multiple verticals and domains, contribute to knowledge sharing, and gain recognition for their efforts. PMAT will likewise benefit from instant insights, which will enable the organisation to understand the efficiency of its onboarding activities as well as the impact on overall L&D strategy and review learner performance to identify if there are any gaps that need to be addressed.
"We are happy with our strategic partnership with PeopleStrong, which will enable PMAT and member organisations to accelerate the onboarding and learning process for today's generation of HR professionals. In an age where organizations and businesses face challenges, PMAT is the primary organization that supports and develops the capabilities of human resources, we are committed towards revolutionising Thailand's HR industry through empowering members with fresh exclusive content and helping them stay updated on new HR trends to stay relevant and competitive," said Dr.Borwornnant Thongkallaya President of PMAT.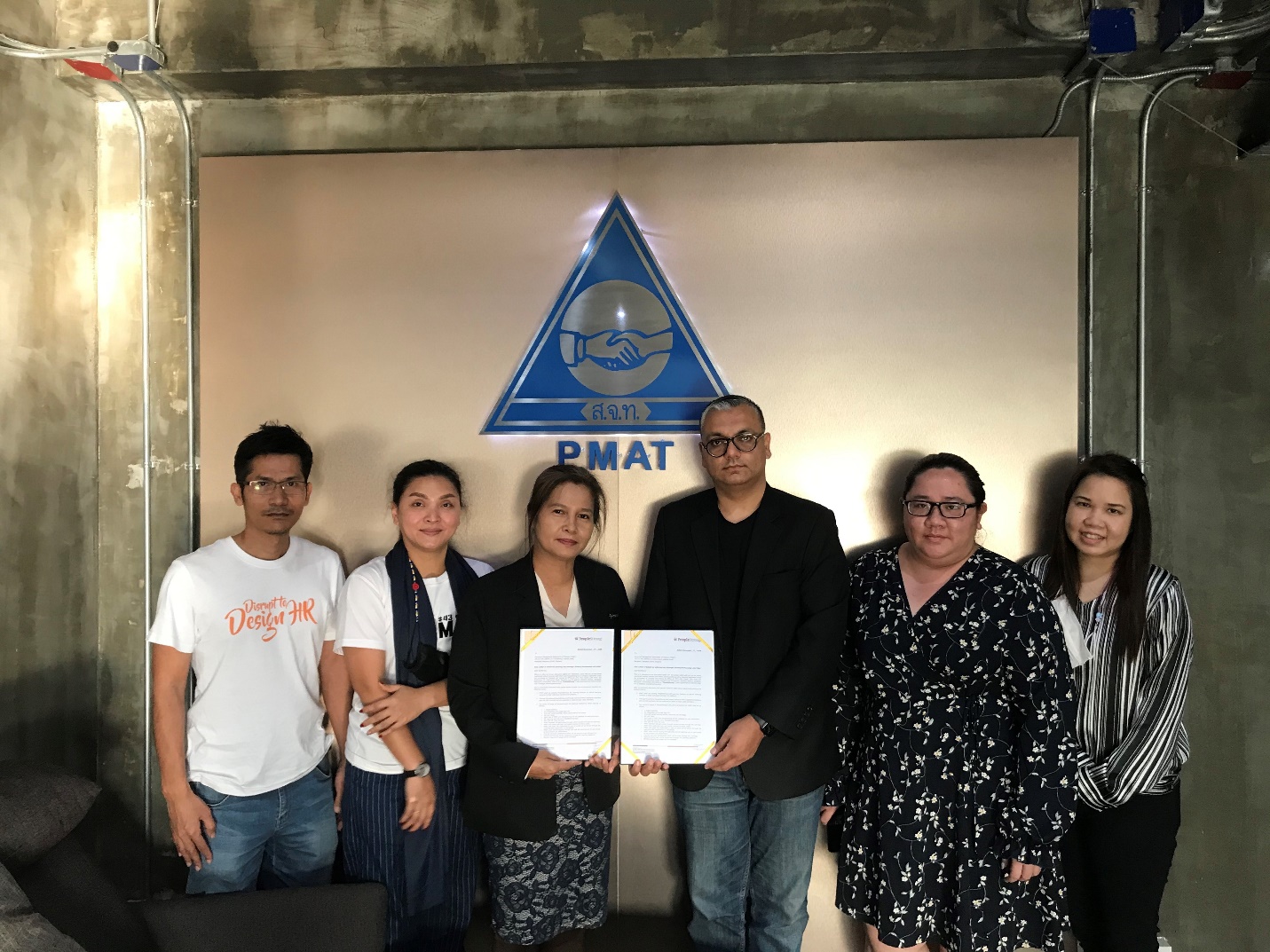 About PMAT
Personnel Management Association of Thailand (PMAT) is a professional association for people involved in personnel management of all levels. The association has been recognized as a central institution to develop a positive relationship between employers and employees and excel in academic excellence as well as being a center for advice on human resource management to benefit society as a whole. including taking part in the development of manpower to drive Thailand.
The association has been established to promote the principles and the practice of personnel management including labor relations in Thailand. The association has an important mission to provide advance education, acquire academic knowledge, enhance competency. PMAT aim that members will help each other In which to bring personnel management method and good labor relations to be fully beneficial and correct. PMAT also is a center for members to exchange opinions and experience in various matters related to human resource management and labor relations coordination and cooperate with other professional institutions. PMAT targets to promote understanding between employers and employees, provide professional advice and assistance in personnel management for members.
About PeopleStrong
PeopleStrong's mission focuses on designing work-life for tomorrow. We create digital tools that enable companies and their employees to collaborate in the simplest, most connected, and delightful ways for optimal and impactful growth. We have enriched the experience of over 1 Million+ users and 300+ customers across the globe.