Social distancing and the avoidance of physical contact have put many traditional businesses in doldrums.
A construction equipment rental company with more than 1,000 employees was still using a legacy on-premises HRIS prior to COVID-19.
That became the largest white elephant when employees were not able to return to the office.
And during which, simple things like leave applications and tasks management regressed to the ancient times of pen and paper.
For others that are fortunate to avoid that situation, collaboration is another hurdle as it has always been conducted face-to-face. The best alternative is WhatsApp, which is not exactly created for collaboration.
Some people managers also faced anxiety in how to manage their people remotely. Without visual cues to monitor time spent, it became impossible for many ill-equipped managers to measure outcome instead.
Returning to work need not be stressful
 Given the new normal, it may seem burdensome to return to work with all the new measures that are meted out.
You have people on rotating schedules between home and work and that essentially combines the problem of the old and the new into a large one.
Without people operations matter sorted out, it will drain your employees of their focus and time to complete a simple transaction, leaving little left for actual work.
That is what PeopleStrong is aiming to fix with our Return-To-Work solution, enabling organisations to have a single platform that caters to employees regardless of where they are.
Collaborations and communications can continue without hiccups and skills upgrading goes from classroom to on-demand.
PeopleStrong Can Help You in These 5 Powerful Ways:
Modernise your workforce to be future ready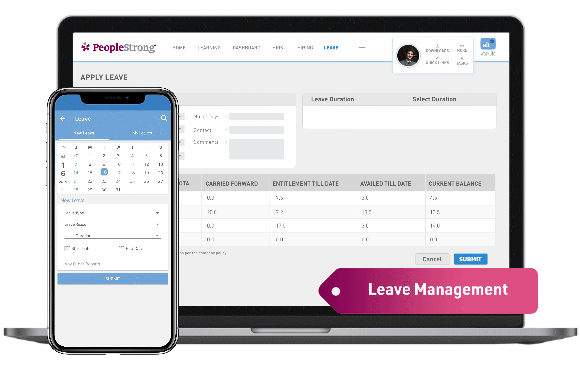 ·         Unified access to employee-related information Right HRIS system to streamline and automate all HR processes
·         Manage your leave and time-off in a couple of clicks.
·         Easy web or mobile punch in with Geotagging/Geofencing
·         Effortless shift or roster management
·         Manage all reimbursements and claims on the go!
Just-in-time learning to level up your productivity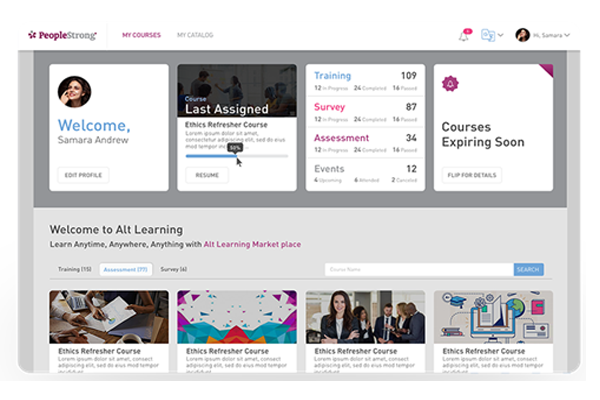 ·         Ability to create Learning Management Systems (LMSs) training content with Industry-leading Scorm & Tin Can (xApi) systems
·         Enhance employee engagement with blended learning possibilities from instructor-led training to interactive courses
·         Get real-time custom reminders through automated emails and app notifications to drive higher course completion rates
·         Track your learner's activity, review performance and gain insights to examine learning and development impact with reports and dashboards
·         On-demand access anytime, anywhere, any-device
Outcome-driven People Management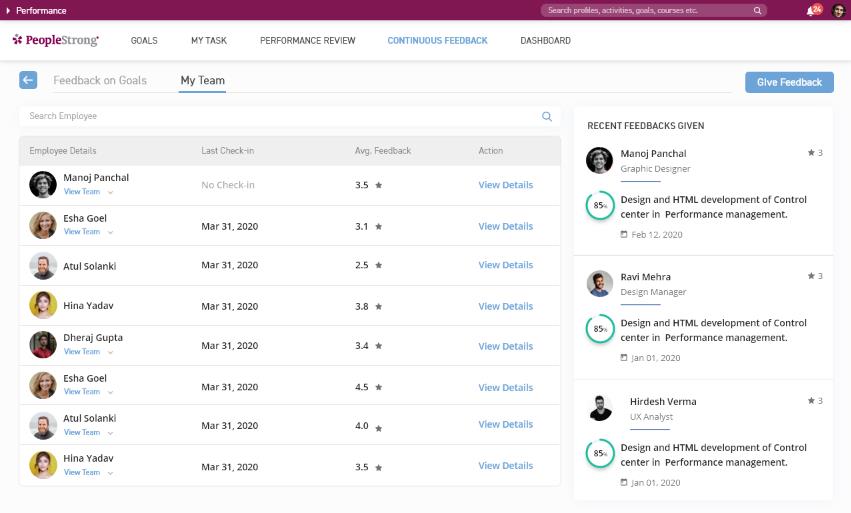 ·         Align people with strategic objectives and enhance accountability among teams
·         Get 360 performance and development feedback
·         Identify top and bottom performers with a single click
·         Assess performance with visualization tools. View, compare, and share ratings in a single dashboard
·         Improve performance with instant feedback, review on the go
·         Recognize and celebrate people achievements
Alone we can do so little; together we can do so much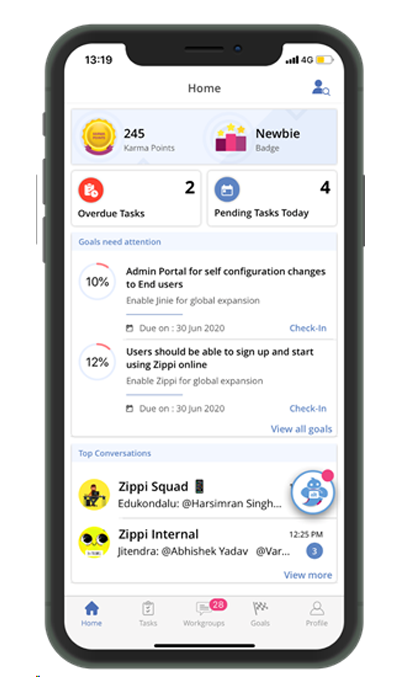 ·         Receive a precise Turn Around Time on outcomes from your team, as they convert goals to daily and weekly tasks.
·         Connects with the information that you need from CRM, ERP, Outlook or any business system. Our HR Chatbot, Jinie, also nudges you for important actionable and meeting reminders
·         Clear visibility on outcomes that impacts performance, Enabling Proactive identification of bottlenecks
·         Collaborate 1-1 or within workgroups
 Explore our solution to help you get back to business in COVID times.