Unprecedented times call for proactive measures. This is what the entire world is grappling with right now. No one ever in the wildest of their dreams would have anticipated such a predicament. But today every individual is trying to adapt to the new world.
While managing work virtually is challenging for any team to adapt to, it was a bit more difficult to manage for the payroll teams, considering that the financial year closing was just around the corner when the lockdown was announced. Our teams were not untouched with the issues, but with the responsibility to manage the payroll of almost 0.5 million employees and their 25 billion INR worth salaries, a lot of whom earn minimum wages; we took on the challenge of delivering payroll on or before time.
It wasn't an easy journey but with everyone contributing, we are so proud that we were able to manage the situation well. Here are a few things which helped us achieve this amazing feat!
Proactive Planning– With the idea to deliver timely and accurate payroll, PeopleStrong Alt Payroll team were ready for the task to build and instate a back-up plan to process payroll a day before the actual payday in-case of a complete lockdown in March. While our cloud infra has always been scalable to meet customer needs, our teams worked with the customers to ensure that in case of an eventuality things do not stop. Be it data or any kind of documents it was ensured that it was accessible securely from home if need be. What helped was that with Alt payroll product in place, 95% of our clients already manage most of their payroll and related process online, be it investment proofs or reimbursement bills or BRE (Business Reimbursement Expenses) and taxation. For the rest of the customers, planning before time helped.
Secure Collaboration– With numerous intricacies in payroll delivery, managing payroll remotely seems like a herculean and impossible feat to achieve. At this moment we needed to have excellent communication internally and externally amongst our different teams, Zippi allowed our teams to be more focused and accurate in our understanding to serve our clients. Our teams are leveraging Zippi for all payroll daily huddles, task assignments, and progress mapping activities in a step towards collaborating and experiencing a new way of work during this difficult period.
Constant Connect powered by AI–As we continue to monitor the situation closely, our payroll customer success teams are ensuring that all our customers and their employees get all possible support in the difficult times. Today, PeopleStrong's Jinie (our homegrown Chatbot) responds to most of the queries asked by employees, that too within no time and a small percentage that is left goes to the helpdesk. During this period, leveraging the power of AI is helping us and our customers provide necessary information related to payroll to the employees.
We are proud to see how different individuals, teams and departments have come together to achieve higher levels of productivity with the focus to simply ensure smooth delivery at such times and serve our customers and their employees. In these tough times, we are in constant touch with our partners and customers to ensure seamless operations throughout and we humbled and honored with the support we have received from our respective customers. Here's what our customers had to say about their experience.
Mr. V Prem Kumar, Group Manager
Royal Enfield
PeopleStrong had provided us excellent support in payroll processing for 4500+ employees during this COVID 19 crisis. However, this month's payroll is very critical and crucial for us since this is the FY 19-20 end (Mar 2020) payroll process. The team has completed the process within 3 days and supported during the weekends to complete the entire payroll process before the normal deadline. I sincerely appreciate the efforts taken by the team.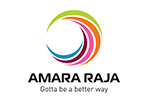 Mr. Nalini Kumar, DGM – HR & Admin
Amara Raja Group
PeopleStrong's Payroll team has given excellent support to make the payroll process on time without any issues. The accuracy is 100% of the implementation onwards. I have not seen any difference before or after COVID-19. We have received the same level of support from PeopleStrong
As the situations surrounding COVID-2019 continue to change, what won't change is our commitment to do everything we can to help ensure to ensure an error-free, on-time, and transparent payroll management. We have earned your trust and loyalty for 14 years and through our commitment to bring joy, energy, and meaning to your work every single day, for this, we want to thank you. As we have during other challenging world events, we will work tirelessly to persevere through this one together.
Vikas Sapra
Chief Payroll Delivery
PeopleStrong Technologies
Payroll and HR are at the core of every organization. With a new-age workforce distributed across geographies, organizations are grappling with multiple online payroll processes, numerous pay-components, and inconsistent payroll software.
Alt Payroll provides an intelligent payroll management system for building smarter workplaces. Get in touch with our payroll and compliance executive to know more about Alt Payroll and how we can manage your payroll better.