The harrowing climate of today has underscored just how interminable change is, no matter what the situation. The upending of the world order has thrown industries into disarray and changed entire systems overnight. Although most people expected India's GDP to show substantial contraction post 4 lockdowns, the broad consensus was that the decline would not exceed 20%. As it turns out, the GDP contracted by 24% per cent in Q1.
The upheaval caused by this has put the notion of a "return to normal" at bay. In lieu of it, the narrative has changed to exploring a "new normal," a phenomenon that's waiting to happen. However, I believe the wheels of this shift are already in motion and that the "new normal" has already arrived and along it, another form of more valuable currency: collaboration.
Like currency acts as a medium of exchange in an economy, collaboration has become indispensable in the world of work. Consider this, companies average 3.8 platform vendors for their collaboration and communication needs currently and the trend shows that the number is only going upward. From an employee perspective, nearly 75% of employees rate teamwork and collaboration as "very important" to getting things done (Source: Queens University of Charlotte).
Clearly, there is a shift in the world of work, but what's more important is how collaboration is seeping into our culture & DNA to bring about profound changes in our working lifestyle. It does not matter if an organization is a more traditional in its outlook or a new age company, collaboration is surely going to be the new currency for all of us in business. Difficult to believe? Not so much, here are the 5 reasons why.
1. Because it is a leading Indicator of Productivity & Business Performance
"We are moving out of the Age of Information into the Age of Imagination. Sixty-five percent of the jobs of the future do not exist yet today. Our greatest currency is not in dollars or data, but in our minds."
– Mohammed bin Abdullah Al Gergawi, UAE Minister of Cabinet Affairs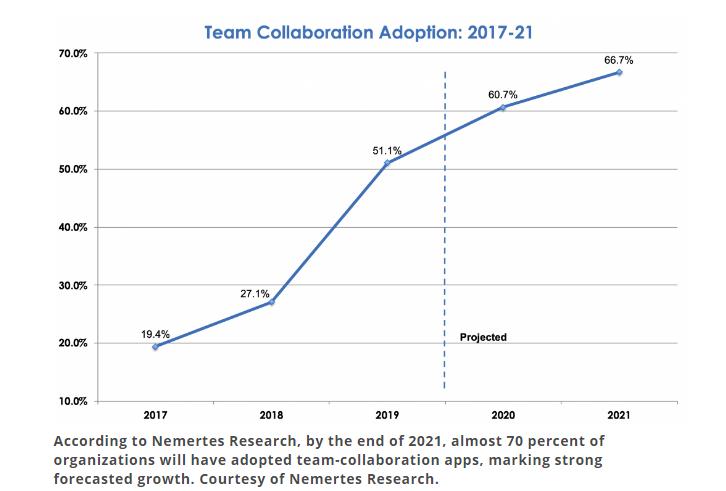 Safe to say, this statement had a profound impact on me, and whose effect was further compounded ever since the pandemic struck. As businesses joined hands to tide over these tough times, I could see the vestiges of age-old approaches fizzling out as they sought to find refuge in collaborative frameworks to unlock employee productivity.
The collaborative environments cultivated through collaboration & communication apps have helped lower costs, reduce timelines, enhance productivity, and increase the RoI by closing the distance between teams in complex business environments. User-friendly collaborative solutions in the form of meeting rooms have helped improve business processes of 53% of organizations (Dimensional Research survey). Not only this, within this segment, various types of communication platforms are seeing a surge and growth in the market.
All of it reemphasizes the fact, that in this new normal, the level of collaboration might as well provide an indication of organizational performance!

2. Because Collaboration creates "Value" at Work
Facilitating collaboration is also key to improving the value of work. A survey carried out by The Institute for Corporate Productivity showed how collaborative work improves the value of work by as much as 500%.
Conscious collaboration facilitates high-level knowledge exchange and streamlines business workflows by closing information gaps and minimizing any delays that could have resulted from it. It also leads to effective project management by promoting transparency, increasing visibility, and ensuring that all essentials are on track to prevent avoidable mistakes.
During the lockdown, Aeon Credit Financial Services faced a unique challenge. With 70% of their workforce being feet-on-street, emails were not an effective way to communicate, educate & bring everyone along. They used Zippi – a collaborative work management platform to bring their largely distributed workforce on a secure platform to form region-wise groups and connect to the last-mile employee with the corporate office. Zonal heads were regularly following up with their teams and informing them of changed policies, sharing documents & coaching as they went along.

It is thus a no brainer, that as we get used to this New Code of Work, "collaborative" investments will help in driving growth and creating more value. The more teams will collaborate contextually, more would be the outcome…not much different from how we invest money today…right?
3. Because Collaboration defines and strengthens the Social Capital
Collaboration and the act of outsourcing knowledge have infinite benefits, particularly in how it can recognize unknown problems. I came across a piece where Diana O'Brien, Deloitte's CMO, and a mother of three nonverbal adult autistic triplets, saw how assistive tech eased her efforts of communicating with her children.
Seeing a lack of desire among developers to create new products that would help the disabled community at large, she collaborated with Balaji Bondili, Head of Deloitte's Future of Work, to create a crowdsourcing platform called Pixel that connects members of the disabled community to identify problems and find solutions. The data collected by Pixel helped O'Brien to undertake much-needed research to motivate developers to build new solutions that helped the disabled community.
With more than 50% of the global workforce now working from home, it is even more crucial to continue building on our social capital. We were able to glide through the first 6 months of remote working because somewhere we were utilizing all the social capital & trust built over years of working in a physical space. With the physical space gone, the question remains, how do we use collaboration to continue building on the social capital?
One plausible answer to this is by converting tasks into conversations. Simple as it sounds, it is far from easy. What we often undervalue in organizations is how people can imbibe the right behaviors & gain knowledge by passive learnings. Conversational tasks bring this out amazingly when team members bank on their collective knowledge and each builds on what the other person has achieved.
Thus while there might not be Banks, Bankers and funds to its name, social capital is an important resource at work and collaboration is the only way to accumulate it.
Like it or not, the New Normal is here. With the virus still lurking around, physical offices are not going to return anytime soon. What we do with our work practices in this time will define trail-blazing organizations from the rest. Forward-thinking organizations have already recognized the power of collaboration and are using it to prepare for the future. They have formulated collaborative frameworks to eliminate knowledge gaps across departments, bank on their collective knowledge & leverage it to deliver outcomes and eradicate bottlenecks completely.
While it might seem hard to monetize the direct value of collaboration, the yield it generates due to continuous knowledge sharing and the creation of creative processes is worth millions and will define the world of work in the times to come. And who knows Mumbai might get its own Collaboration Exchange too?