For organizations still considering going automated, the concept of HR on Cloud may seem daunting, but its actually much easier to do than it looks.
PeopleStrong's Alt Worklife is India's first HR app that offers an HRIS systems to manage all HR processes. Under the Alt Worklife module, everything from onboarding to exit management can be processed effortlessly from any place and time. The Alt Payroll module lets you work on the integrated payroll solutions on the cloud and get rid of all payroll complexities in one go.
With more than 5,00,000 active users and approximately 1.25 million transactions clocking in per month, it just affirms the company's belief that an HR app needs to, first and foremost, provide navigational comfort. A powerful but simple user interface ensures that customers are able to access HR operations and HRIS in its entirely as a software module where every employee-facing process has been mapped on the system.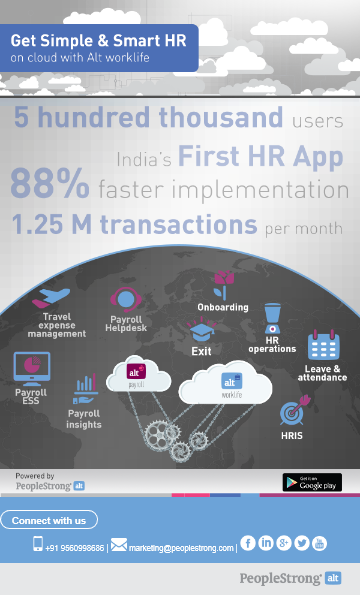 To know more about Payroll Software connect with us
Payroll and HR are at the core of every organization. With new-age workforce distributed across geographies, organizations are grappling with multiple payroll processes, numerous pay-components, and inconsistent tax and compliance handling. Alt Payroll provides intelligent payroll management solution for building smarter workplaces.
Get in touch with our payroll and compliance executive to know more about Alt Payroll and how we can manage your payroll better.