According to Gartner's prediction, an average individual would hold more conversations with chatbots in 2020 than with their spouses!
And while we cannot comment on the latter, chatbot usage saw a 92% uptake in the years preceding the forecast year. Naturally, it bore an indelible mark not just on our private life but also on our professional lives. While they are typecasted as customer service tools, platforms like LinkedIn broke this mold as they embraced the idea of chatbots for their varied benefits, including the facilitation of recruitment. Businesses can follow suit and use AI-Chatbots to make talent management more frictionless.
If your organization is testing out the possibility of deploying an AI-Chatbot solution, here is an overview of five ways in which they can assist you on this journey:
1.Talent Sourcing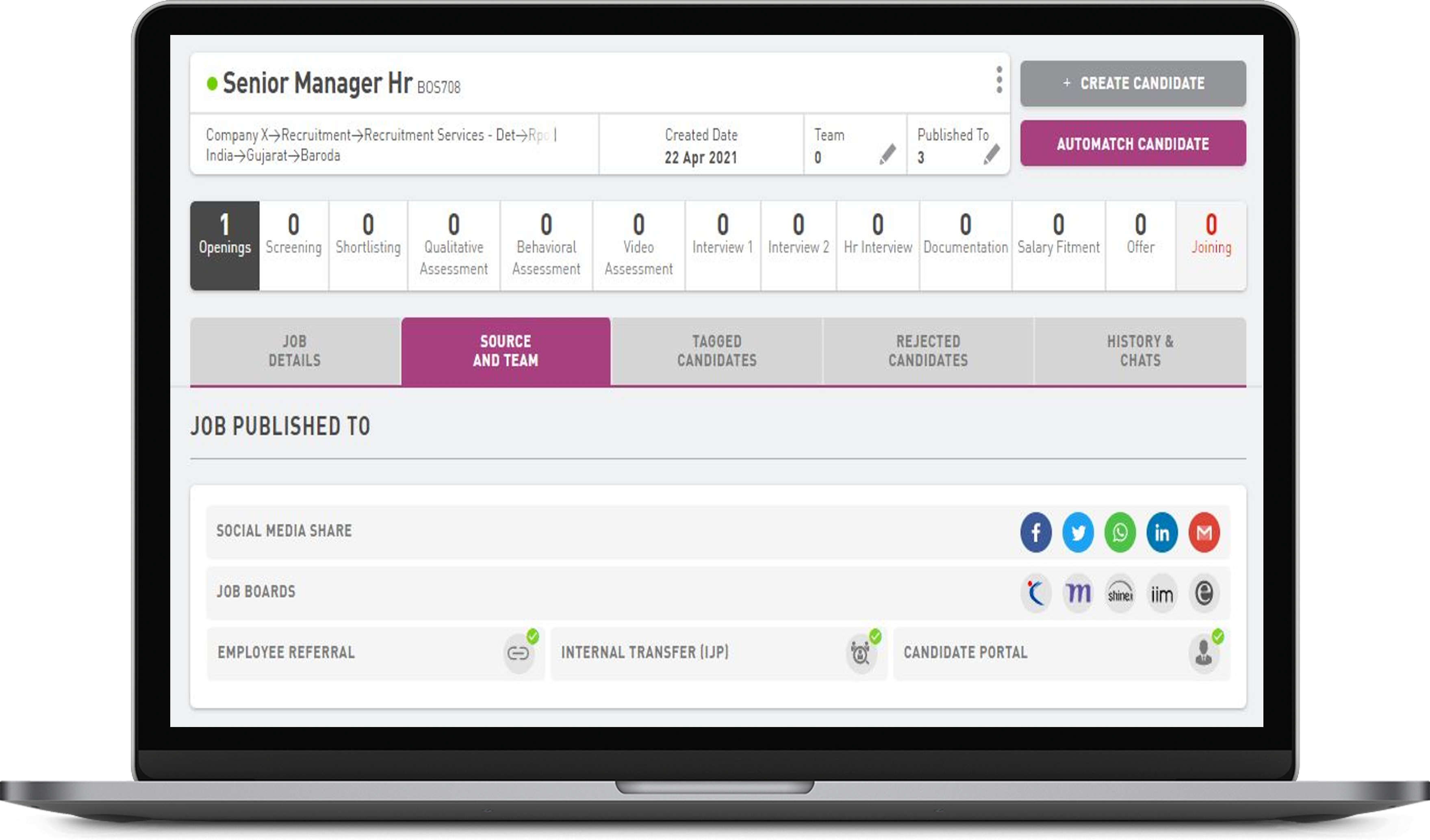 Gone are the days when job portals were your primary source of talent. The advent of digital technologies has not only broadened the scope of your talent pool but has also discovered off-beat channels for identifying talent.
Deploying an AI-chatbot can unlock immense value as you capture more than just leads. AI-Chatbots can collect invaluable data from multiple channels, such as job portals, industrial forums, social media, professional networks, and even your existing database! Every visitor on your website's career page and every attendee at your event lands up in your talent pipeline and gets treated as a prospect against the requisition. These chatbots are easily configurable and allow you to define and set parameters on the nature of talent that you seek. Plus, they can seamlessly integrate with external popular collaboration platforms, such as WhatsApp, which expedites candidate communication, thereby adding back more hours to your day!
You can further analyze the inputs across the channels to identify talent sources that offer high-quality candidates with greater employee lifetime value. Accordingly, you can further optimize your talent strategy to target successful channels with PeopleStrong Recruitment Software!
2.Talent Screening and Assessment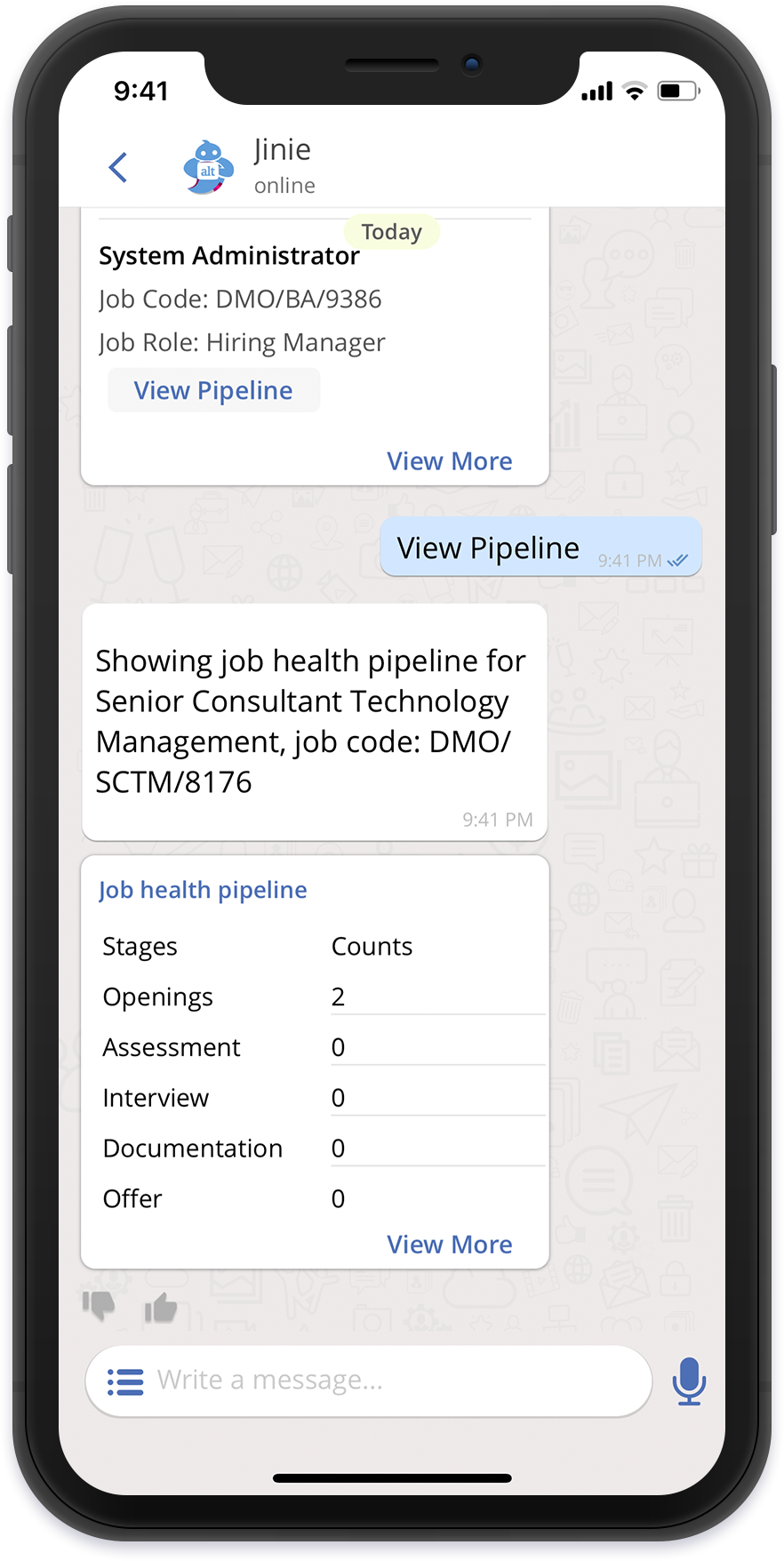 Companies can make use of AI-Chatbots to conduct a preliminary screening of candidates. While the average recruiter may take 16 hours a week to perform candidate screening, chatbots can deliver the same result in just five hours!
And even though it cannot carry out a full-fledged assessment of their skills and competencies, it can pose rudimentary screening questions such as asking them their expected compensation, additional courses or certifications, notice period at current employer, and so on. With PeopleStrong's AI-driven Recruitment capabilities, you can build on these abilities with third-party integrations that allow access to over 20 assessment and screening partners that excel in shortlisting candidates. The use of NLP can allow candidates to further elaborate on their work experience and qualifications so that you can capture more information against the candidate profile.
Resultantly, it can separate the grain from the chaff so that recruiters can focus on the eligible candidates.
3.Talent Onboarding and Training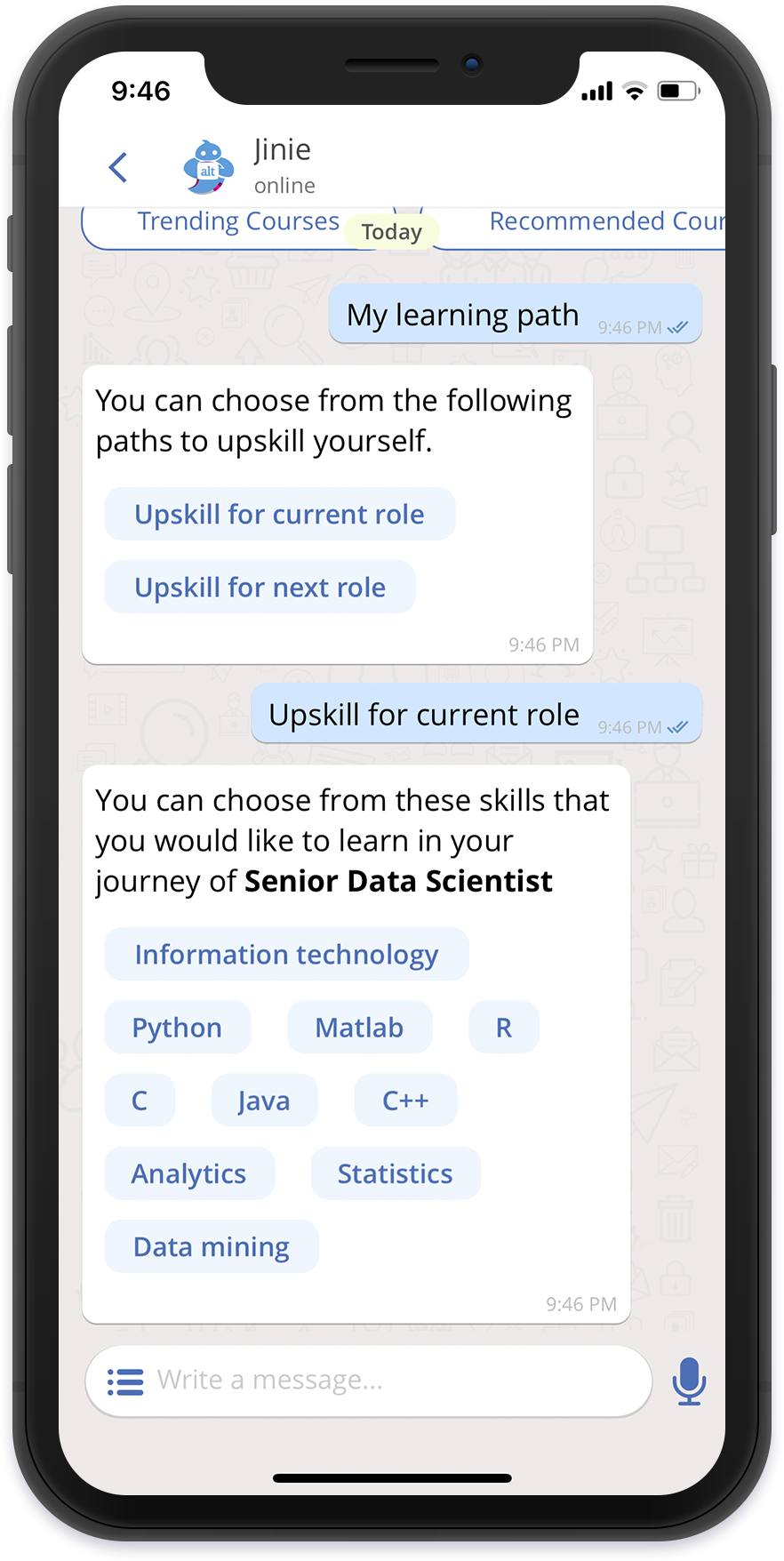 Most chatbots like PeopleStrong's Jinie come with integrated HR modules and functionalities that enable seamless employee onboarding and training from day 1.
Companies can set up fully automated workflows to walk them through the process of getting acquainted with the work culture as well as the roles and responsibilities associated with the fresh recruit's position. In such a setting, AI-Chatbot not only welcomes new hires but also acts as a Talent Coach with course recommendations and assigning training modules that enhance employee career journeys.
Furthermore, since these chatbots are driven by artificial intelligence and machine learning, they get smarter after every onboarding cycle to pre-emptively gauge the frequently asked questions and incorporate them within the main module.
4.Talent Engagement and Retention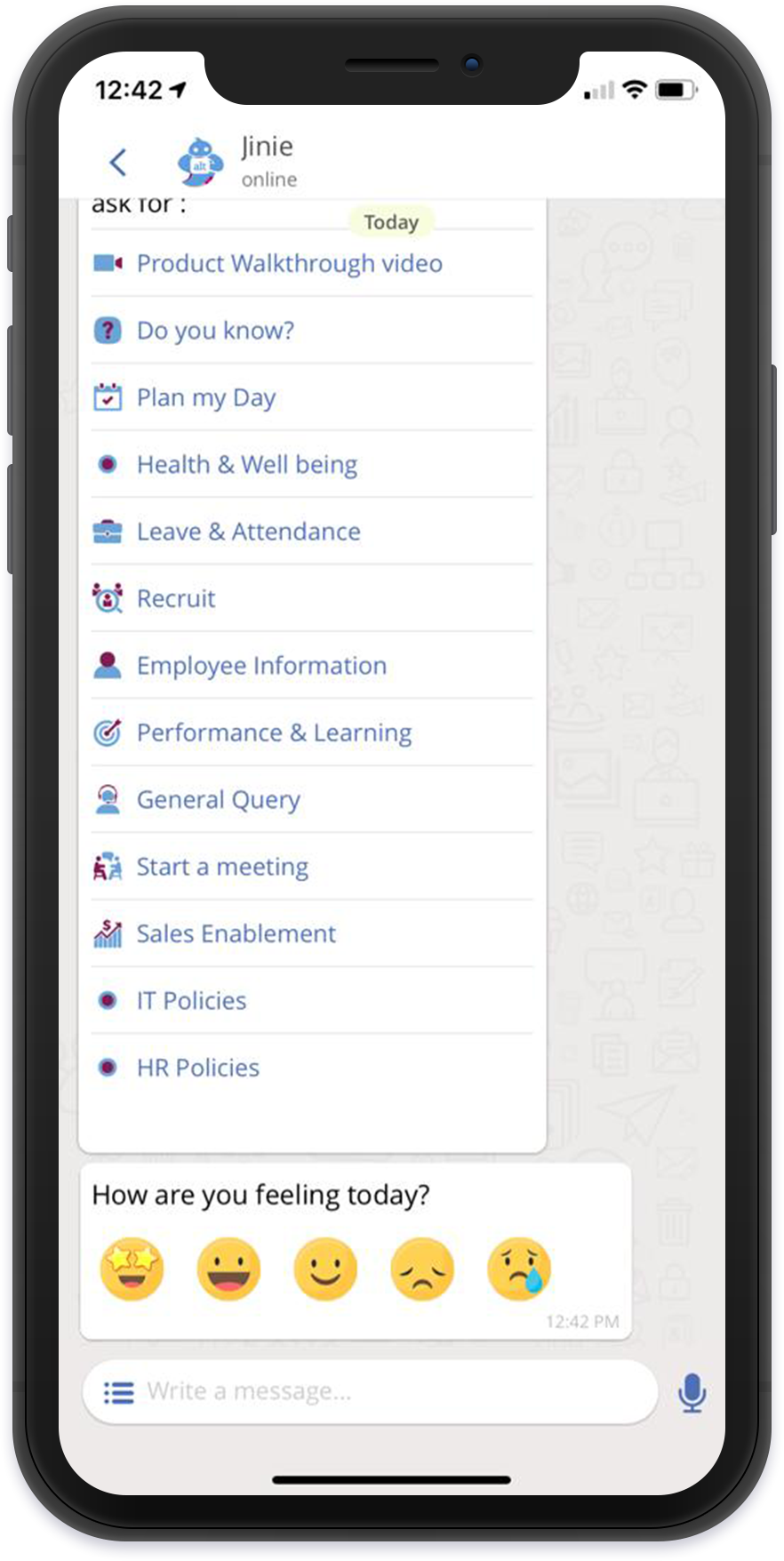 AI-Chatbots can discover ways to engage employees and retain talent in the long run. For starters, the employee-chatbot interactions can lend insight into the employee's personal and professional aspirations. The AI engines can then analyze and identify ways in which they can be aligned with overall business objectives. Using these data points, the chatbots can finally proposition supporting career planning options and opportunities to build on these desires and help achieve these goals so that managers can encourage the same.
In addition to matching employees with projects based on their profiles, skills, and capabilities, AI-Chatbots can also challenge individuals to push their boundaries with constant nudges and acquire new skills. The chatbots can also analyze employee performance reports to perform skill gap analysis and take appropriate action. There's no limit to AI-Chatbot capabilities in managing talent, reducing employee churn, and contribute to talent retention.
Also Read: Redesigning Digital Workplaces With Conversational AI-Chatbots
5.Effective Workforce Management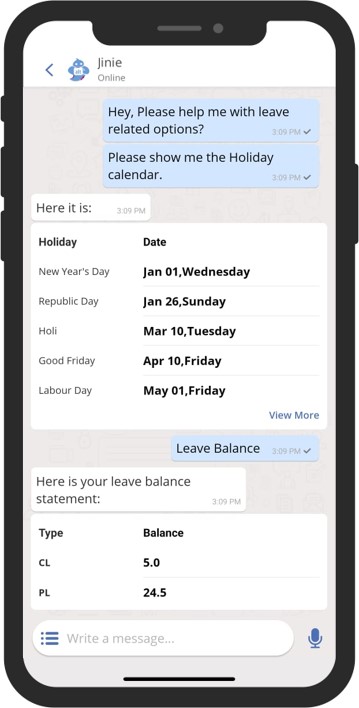 While measuring, tracking, and analyzing performance, AI-Chatbots can be a powerhouse of action.
Firstly, they can help maintain a historical record of employee performance – right from the day the employee became a part of your organization. The chatbots can then routinely collect data from the employee and various sources to automatically generate reports on their performance and process it against set benchmarks. Depending on the outcomes, the managers can take a call on rewarding the employee or take performance enhancement measures.
Secondly, it can help manage routine day-to-day activities such as managing leaves, monitoring attendance, reimbursements, etc., so that employees can manage work-life effectively.
Apart from catering to employees' daily workforce requirements careers, the chatbot can also serve as a useful tool while capturing feedback from the employees. And the AI system's data-driven approach can also manage talent effectively without any bias.
Final Thoughts
An AI-Chatbot can offer a large bucket of advantages, starting with faster recruitment cycles, automation, and cost optimization to improved candidate experience, reduced administrative loads, and long-term employee lifetime value. On that note, it leaves no room for imagination that chatbots are the way to go for powering up your talent strategy.
If you are in the market for such a powerful Talent solution with innate AI capabilities, Talent Operating System will put an end to your search. Explore now!